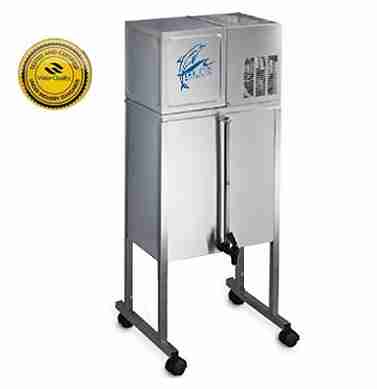 Call 612-701-7820 for Daily Specials and to Order or order online here.
Water Distiller Model ARS 3000 - Automatic Fill Water Distiller – 9 gallons/day distilling capacity - 12 gallon stainless steel storage tank. 
SPECIFICATIONS:
Water Distiller Overall with tank
Height 42 inches
Width 17 inches
Depth 11 inches
Shipping Weight 44 lbs.
Produces 34 liters (approximately 9 gallons) every 24 hours.
1200 Watts of Power consumption (Plus into 110-120 Volt outlet)
Produces up to 9 gallons a day, refilling the 12 gallon reservoir continuously and automatically. Front and side tap capabilities, so you can optimize the placement of your distiller. Add the optional Remote Faucet Pump System to enjoy pure water from refrigerator, ice-maker, sink and wet bar.
Includes: Distiller, Reservoir tank and 1 Carbon Filter Cup 
$1599