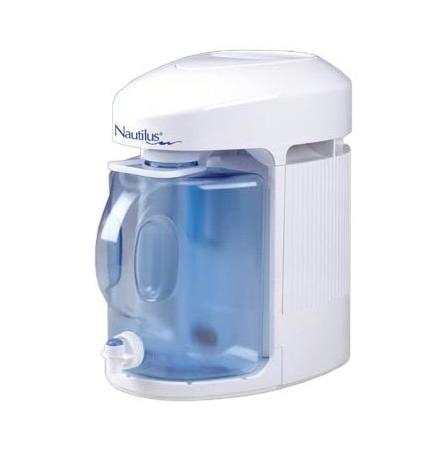 Call 612-701-7820 for Daily Specials and to Order.
Nautilus Water distiller for home and RV's. No installation needed. Just plug-in and you'll get great distilled water in no time.
Ideal for producing clean, healthy water for many applications related to health, business and household products. After distilling, place the jug full of distilled water in the refrigerator and fill glasses with the push-button spigot!
There are no complicated hookups or plumbing installation requirements.  Just unpack and plug in to any standard 110/120 volt electrical outlet.
Simple Steps for Distilled Water using the Nautilus distiller:
– Fill the boiling chamber with tap water
– Push the start button and walk away.
Four hours later you can return to one full gallon of the best tasting water you can buy or produce at home.
This portable, lightweight distiller is easy to operate and maintain, presenting a pleasing and compact appearance on the countertop.
Specifications
Size/Weight:
15-1/8″high x 16″ long x 9-5/8″wide
10 pounds
Distilled Water Production:
One gallon/approximately four hours 20 minutes @ 120Volts, 60 Hz
Batch size = one gallon
Automatic Control System:
Manual reset thermostat – lighted switch on boiling chamber
Fan-delayed start at 150 degrees F; delayed stop after cool down 150 degrees F.
Stepped inset prevents boiling dry, reduces scaling, easy to clean.  Thermally protected with a double fuse
Reservoir/Carafe:
One Gallon Capacity
Dispensing spout
Movable handle affixed to top for easy carrying and pouring
Activated carbon post filter
Screw cap fits with or without post filter in place
$347
Electrical System

All portable water distillation systems utilize a fully-automatic, thermostat-activated shutoff system. When a "batch" of water is produced and little or no water remains in the boiling tray or container, electrical circuits to the system are terminated using sensitive thermostats. These thermostats are easily reset for the next "batch" cycle by convenient push buttons on the face of the distillers.
This water distiller requires heating up 1-gallon of tap water prior to production; therefore startup (to first distilled water production) is ~20 minutes for most units.
Electrical operating costs for the system can be estimated using the example of 10¢ per kilowatt hour electricity rates and excludes filter replacement costs: Nautilus ~ 29.2¢/gallon
Total wattage consumption 750 watts: heater 730 watts; fan 20 watts
Detachable power cord: 36″
Approvals: CSA(Canada); CE(Europe); WQA Gold Seal
Maintenance of Boiling Chamber
Hi-tech, high temperature, food-grade thermoplastics and resins are used for the boiling chamber designs in this portable distillation system. Utilizing an FDA/NSF approved polypropylene and stainless-steel boiling chamber the Nautilus distiller easily snaps away from a sealed electrical connector for easy filling or cleaning.
Rinse with tap water after each use.  Safe to use with commercial descalers
Boiling Chamber Inset: Stainless Steel
Boiling Chamber: Polypropylene
Cover: Polypropylene
Gasket: EPDM
Baffle: Santoprene
Spout: Celcon
Hose: Silicon
Elbow: Polypropylene
Condenser coil: Stainless steel with VOC vent
Reservoir: Lexan*
Outer Housing: ABS*
Boiling Chamber Base: Lexan*
All wetted materials rated for FDA/NSF   * Engineered resins by General Electric Plastics