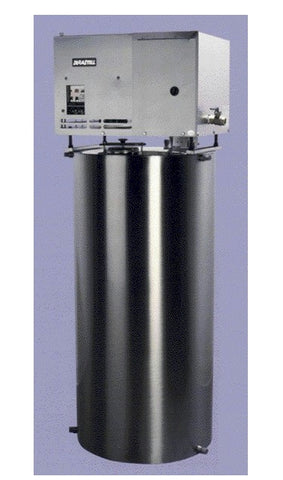 Durastill 4280 Commercial Water Distiller

DUE TO HIGH DEMAND THIS DISTILLER IS TAKING LONGER THAN USUAL TO SHIP. IF YOU WOULD LIKE TO RESERVE A PLACE IN LINE FOR DELIVERY WITHOUT PAYING THE FULL AMOUNT RIGHT NOW PLEASE CALL US AT 612-701-7820 FOR DETAILS.
Commercial Automatic Fill Water Distiller produces 42 gallons/day and includes 80 gallon storage tank. Highly recommend to add the Auto Drain Accessory for easier maintenance. Available in 208 Volt or 240 Volt configuration.
SPECIFICATIONS
The distiller head (42C) is a fully automatic water distiller which produces up to 42 gallons of distilled water in a 24 hour period
Head Dimensions: 17 inches h x 23 inches w x 18 inches l 
Boiler - 316 alloy stainless steel evaporator
Two Incoloy (stainless steel) heating elements – 2500 Watt each
Your choice of 208V or 240V AC – 50/60 Hz- Single Phase
24V breaker protected control circuit
12" diameter condenser fan, 1/20 HP motor
Automatic drain valve is available as an accessory
Shipping weight 78 Pounds


80 Gallon Stainless Steel Reserve Tank

Tank Dimensions:  52 inches h x 24 inches w x 24 inches l 
Built of 18 gauge, 304 stainless steel
24 volt float switch in storage tank for high level control
Add remote faucet system to provide distilled water to remote location in home or workplace
Site tube available as an accessory.
Shipping weight 95 Pounds
---
We Also Recommend