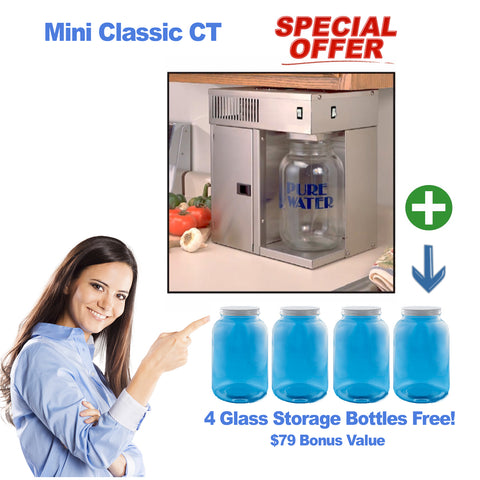 Mini Classic CT Distiller + 4 Glass One Gallon Storage Bottles

Mini Classic CT Water Distiller Bundle with 4 Glass Storage Bottles - a compact, counter top and portable home water distiller with a removable boiling chamber that allows for easy filling and cleaning. Just plug in - no assembly or installation required.  

It operates much like your coffeemaker, and produces approximately .8 gallons (3 liters) of clean water every 3.5 hours.
SPECIFICATIONS
width: 13.75" (35 cm)
depth: 9.875" (25 cm)
height: 15.75" (40 cm)
shipping weight: 32 lbs. (14.5 kg)
machine weight: 24 lbs. (11 kg)
current draw (120V): 6.9 amps
total wattage: 800 watts
---
We Also Recommend