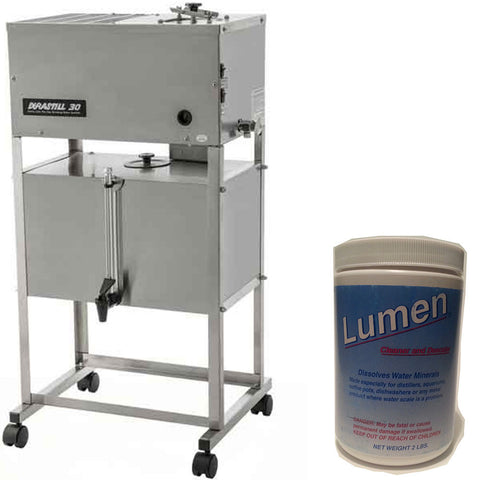 Durastill 3040 Water Distiller plus Descaler

DUE TO HIGH DEMAND THIS DISTILLER IS TAKING LONGER THAN USUAL TO SHIP. IF YOU WOULD LIKE TO RESERVE A PLACE IN LINE FOR DELIVERY WITHOUT PAYING THE FULL AMOUNT RIGHT NOW PLEASE CALL US AT 612-701-7820 FOR DETAILS.
This special water distiller bundle includes the Durastill 30J Automatic Fill water distiller head mounted on top of the Durastill 10 gallon stainless steel storage tank with stand and casters. Produces up to 8 gallons of distilled water per day. Bundle includes a small container of water distiller descaler that will help keep the boiling chamber clean and extend the life of the distiller. Stainless Steel construction made in the U.S.A.
SPECIFICATIONS:
Water Distiller Head
Height 13 inches
Width 20 inches
Depth 13 inches
Shipping Weight 36 lbs.
Produces 30 liters (approximately 8 gallons) every 24 hours.
Storage Tank
Holds 40 liters
Height 29 inches
Width 20 inches
Depth 13 inches
Shipping Weight 29 lbs.
Overall Height 39 inches
Proven design with FLOAT CONTROL feature
316 alloy evaporator
Incoloy (stainless steel) heating element
Plugs into 115 volt outlet
Connects to water line for continuous automatic operation
Volatile gas vent system
Stainless steel support frame with casters
Built-in connection for adding remote faucet system to provide distilled water throughout the house
---
We Also Recommend